Dr. Passang Thopchen, B.T.M.S., D.T.C.M., M.D:

Dr. Passang Thopchen is third lineage of Namwed Kegal Tsang. Namwed Kegal who ruled Song choo area in east Tibet. Dr. Passang graduated in both Tibetan and Chinese medicines. He practices a unique fusion of both disciplines and so is able to complement the administration of herbal medicine with acupuncture. He is totally dedicated to the ancient medical sciences and is constantly engaged in research.
Tibetan medicine takes the whole person into account considering all aspects: lifestyle, diet, morality, and most important, the emotions. If unbalanced, these weaken the immune system and so are perceived as being the root cause of all sickness. Prevention is better then cures. Doctor Passang cures through diet, moral behaviour, medicines and therapy (internal and external therapy) to treat the patient.
Dr. Passang is practicing on the international community and in the Indian cities of Dharamsala and Pune. He has treated more then 100.000 patients, and so has gained unprecedented insights into the national emotional characteristics he has encountered.
Treatment always involves the patients in their own recovery. Dr. Passang offers counseling and visualization as techniques to balance the mind, by changing the diet, morality. He has been successful in treating a wide spectrum of ailments, from drug addiction to the common cold. Perhaps it is because he comes from a medical back-ground (his mother is a qualified western medical doctor, she also used acupuncture.) But Dr. Passang accesses his ancestral intuition in both diagnosis and treatment. He conducts acupuncture and Tibetan medicine course. He never fails to hit his target and has had invariably positive feedback.
Dr. Passang is a member of the Tibetan medical society, the Acupuncture TCM of China, and India Academy of Acupuncture Science (IAAcSc) of India. He has attends international conferences in Beijing, New Delhi and Rome.
Tibetan Medicine Chinese Acupuncture(TMCA) Clinic: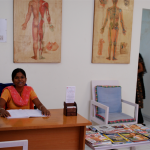 Established in 1995, Tibetan Medicine Chinese Acupuncture Clinic (TMCA Clinic) is a unique healing centre that combines the essence of Herbal Tibetan Medicines with the effective power of Acupuncture, Moxabustion, Cupping, Chiropractic work and others to provide an effective therapy.
Instruction:
TMCA Clinic takes care of healing all kinds of body pains, stiffness, acute and chronic problems, health care, care for all kinds of face and skin problems, care for physical, mental and emotional problems, fertility issues, loss and gain of weight care for abstention from smoking and alcohol and lot more…
Clinic Timing: 09:00 am – 1:00 pm & 04:00 pm – 07:30 pm (Monday – Saturday) by appointment.
For appointment contact: 020 26155936 / 020 65231581